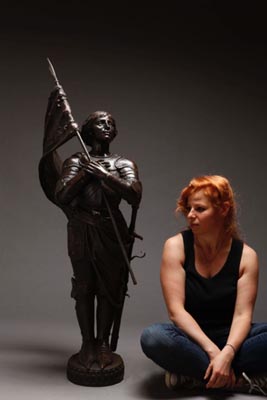 Julia Levitina was born and raised in Odessa, Ukraine. She currently lives and works in Philadelphia, splitting her time between the United States and France. Levitina creates powerful and elegant figurative sculpture in bronze that aims to capture extraordinary in the ordinary. Her work strives to entice the feeling of awe as its creator searches for wisdom by way of wonder.
Julia Levitina makes her own clay, molds, waxes, and does all subsequent casting and finishing of her bronzes, including melting and pouring metal, in her Philadelphia studio.
Julia Levitina has held solo exhibitions of sculpture and drawings in Philadelphia and the Philadelphia area, and has participated in numerous group shows in the tri-state region. Nationally, Levitina's work has been exhibited at the Frederick Meijer Sculpture Gardens, the Noyes Museum, Pennsylvania Academy of the Fine Arts and Catherine Lorillard Wolfe Art Club, among others. Internationally, she has shown at the City Hall in Odessa, Ukraine, St Jean des Arts in Normandy, France, La Maison Verte in Champagne-Ardenne, and at the Foundation Taylor in Paris. Levitina's bronzes can be found in various public and private collections in the US and in Europe, including Thomas More Law Center in Ann Arbor, MI, Jewish Museum in Budapest, Hungary, Van Mieghem Museum in Antwerp, Belgium, and the Flanders House in New York City. Her work is currently on view at the Stanek Gallery in Philadelphia and at Somerville-Manning Gallery in Wilmington, DE. Levitina has recently exhibited at the Hugo Galerie in Soho, Galerie de Buci in Paris and has held a solo show of her sculpture and drawings at I-Gallery in Paris.
Julia Levitina is a recipient of the prestigious Alex J. Ettl Grant from the National Sculpture Society. She has been awarded multiple prizes by the Foundation Taylor in Paris, including the Foundry Award in 2017. She has installed a ¾ life-size commissioned sculpture of St Joan of Arc clad in full armour at the Thomas More Law Center in Ann Arbor, MI, and completed a ¾ life-size nude commissioned for a private garden in Haverford, PA. In autumn 2017 Levitina completed and installed an over-life-size figurative commission in a prominent spot on Georgetown University's Main Campus in Washington, D.C., to be dedicated in Autumn 2018.

2018