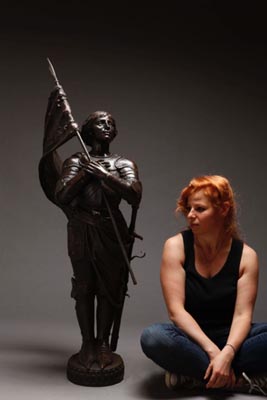 Julia Levitina was born and raised in Odessa, Ukraine, and currently lives and works in Philadelphia. She creates powerful and elegant figurative sculptures in bronze that aim to capture extraordinary in the ordinary. Levitina personally attends to her entire craft process, from clay to bronze, including metal casting and finishing, in her studio.
Julia Levitina has held solo exhibitions of her bronze sculptures and drawings nationally at Brookgreen Gardens, Frederick Meijer Sculpture Gardens, Noyes Museum, Pennsylvania Academy of the Fine Arts and Catherine Lorillard Wolfe Art Club, among others, and internationally at City Hall of Odessa, Ukraine, St Jean des Arts, La Maison Verte in France and Foundation Taylor in Paris. Levitina's bronzes can be found in public and private collections in US and in Europe, including La Salle University Art Museum and Pennsylvania Academy of the Fine Arts in PA, Thomas More Law Center in Ann Arbor, Flanders House in New York City, Jewish Museum in Budapest and Van Mieghem Museum and City Hall in Antwerp, among others. Levitina is represented by Stanek Gallery in Philadelphia and Somerville-Manning Gallery in Wilmington, DE.
Julia Levitina has been an invited guest artist and lecturer at Paris Academy of Art and Montferrier-sur-Lez in France, as well as at the Cheltenham Art Center and Fleisher Art Memorial in PA, where she currently teaches figure and portrait modeling workshops. She has taught foundry and application of bronze patinas at Florence Academy of Art in collaboration with an internationally acclaimed art foundry Ciglia e Carrai Fonderia Artistica in Florence, Italy, and the Pennsylvania Academy of the Fine Arts in Philadelphia.
Julia Levitina is a recipient of Alex J. Ettl Grant, highest honor bestowed by National Sculpture Society upon a figurative sculptor of exceptional merit, in addition to earning multiple prizes and awards nationally, most recently Philadelphia Sculptors Grant, and internationally, notably Foundry Prize from prestigious Foundation Taylor in Paris, among others. In recent years, Julia Levitina has completed a number of large commissioned sculptures in bronze, including St Joan of Arc for Thomas More Law Center, ¾ life-size nude for private garden in Haverford, PA, and an over life-size figurative bronze sculpture of St Joseph with Christ Child for Georgetown University's Main Campus in Washington, D.C. She recently held a solo exhibition of her bronze sculptures, titled Fundamentals of Flight, in Philadelphia, and contributed her work to Art for Peace exhibition in Los Angeles intended to benefit her countrymen in Ukraine.

2022